Thank you for being part of our 20th season!
Friends, now that we've been able to catch our breath a bit after closing MACBETH, we want to say a big THANK YOU to all of you! We are so grateful for your support--over 900 of you joined us at Falls Park for our 20th season! Thank you for coming, for telling your friends, for your thoughtful words, and for your "thank you notes" to the City of Sioux Falls Parks and Recreation Department--we would not be able to do what we do without their generosity! Our hearts are full. Until next year, Shakespeare fans! ❤️
With love and thanks from our 2017 company,
Jayna, Rj, Bob, Nadine, Jeff, Martha, Dakota, Clara, and Jessa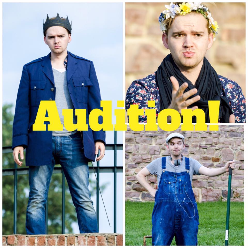 Upcoming in the 2019 Season!