Jayna Fitzsimmons,
Artistic Director
Jayna is an instructor in the theatre
department
at Augustana University where she directs productions and teaches courses in acting, theatre history, playwriting and improv. She has a B.A. in theatre arts from SMSU, an M.A. in theatre with emphases in theatre history and literature, directing, acting and Elizabethan drama from USD, and is currently working toward her PhD in English at USD. Originally from the Sioux Falls area, Jayna grew up enjoying Bare Bodkins performances. Now, in her tenth summer working with Bare Bodkins, Jayna is thrilled to be serving as the producing artistic director of the company and has enjoyed collaborating with this season's incredibly gifted company!

Robert Fitzsimmons,
Production Designer
"Rj" is co-owner of Bare Bodkins and the husband of Jayna Fitzsimmons. He is the Technical Director and Resident Designer at Augustana University, where he teaches stage craft, scenography, drafting, rendering and stage management. He has a B.F.A. in technical theatre and design from Western Kentucky Universtiy and has worked for the Black Hills Playhouse in South Dakota, Brevard Music Center in North Carolina, Jenny Wiley Theatre in Kentucky, and the Arundel Barn Playhouse in Maine.
Nadine Purvis Schmidt,
Actor
Nadine Purvis Schmidt is Professor of Theatre at Southwest Minnesota State University, where she directs shows, teaches various acting, directing and other courses, and is the producer and program coordinator. Recent credits include Superior Donuts (Lady) at TheatreSquared, and the last 5 seasons with Bare Bodkins, including The Winter's Tale (Paulina, Shepherd), Hamlet (Gertrude), All's Well that Ends Well (Countess, Widow), Romeo and Juliet (Friar Laurence, Capulet), and The Tempest (Prospero). Nadine has an MFA in acting from the University of Arkansas, a certificate in Shakespeare performance from the Royal Academy of Dramatic Art in London, and a B.A. in English from Harvard.
Alex Newcomb Weiland,
Actor
Alex Newcomb Weiland is extremely excited for her debut with the Bare Bodkins theatre company! She is senior Musical Theatre major down at the University of South Dakota. Native to Sioux Falls, Alex is happy to be back in the area doing what she loves and surrounded by the people she loves. This is her first ever Shakespeare show and she cannot WAIT to dive into this artistic, fun and challenging experience! Some of her favorite roles she has played have been Irina in Three Sisters, Mary Magdalene in Jesus Christ Superstar, Meg March in Little Women and a Kit Kat dancer in Cabaret. She would like to thank her Mom and Dad, her siblings, friends and entire extended family for their never-ending support and love.
Tristan Love,
Actor
Tristan is excited to be a part of his first ever Bare Bodkins production. Thanks especially to my family, the whole of Augie's faculty, the many friends who have become family, and a huge thank you to Bare Bodkins and other companies who seek to make the arts more accessible.
Jeff Larsen,
Actor
Jeff is excited to be returning for his fifth year with Bare Bodkins. He is a graduate of Augustana University where he earned his B.A. in Theatre and Philosophy. In addition to working in the area as an actor/director/designer, Jeff serves as the Artistic Director for Monstrous Little Theatre Company. He currently works in the box office at the Washington Pavilion. Some favorite roles of his include Wally Ferguson in The 1940s Radio Hour, Henry in Next to Normal, Ariel in The Tempest, and as "himself" in The Complete History of America (Abridged). Jeff would like to thank his family and friends for their incredible and unending support.
Martha Stai,
Actor
Martha Stai is thrilled to be returning to Bare Bodkins for her fourth production. She is a graduate of Augustana College and teaches English at Lincoln High School. Some of her most memorable theatrical roles include the Narrator in Joseph..., Penny Pennywise in Urinetown, Eve/Mama Noah in Children of Eden, Lady Macbeth in Macbeth, and Mary Poppins in...you guessed it, Mary Poppins. She is the company manager for the Good Night Theatre Collective and has spent the past two years performing in and directing cabarets during Good Night's second season. Martha would like to thank God, family, and friends for their unwavering love and support.
Drake Zuschlag,
Actor
Drake Zuschlag is a senior acting major at USD from Boise Idaho; yes really, Idaho. He's incredibly excited to be involved with Bare Bodkins for the first time. A few of his favorite recent roles include Chebutikin in Three Sisters, Perchik in Fiddler on the Roof and Henry in Mud. Drake is really looking forward to being a part of this fantastic team and production!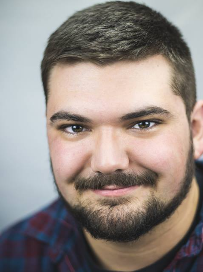 Casey Ring,
Actor
Casey Ring is the Executive Director for the Olde Towne Dinner Theatre in Worthing South Dakota. He is extremely excited to be making his debut with Bare Bodkins. You may have seen him recently on stage as Robert in Boeing Boeing with the Mighty Corson Art Players, Kevin in Insane with Power at the Olde Towne Dinner Theatre, or Bill Reach in Down the Road with the Monstrous Little theatre Company. He has also directed two full length plays with the Mighty Corson Art Players, Complete History of America Abridged and Every Christmas Story Ever Told. While Casey spends the majority of his time in one theatre or another, he spends what free time he can with his Fiancé Megan or admonishing their overly excitable St. Bernard Kodiak.